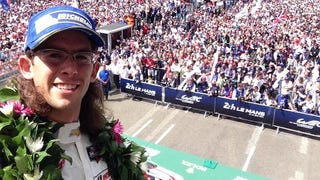 Jordan Taylor, fresh off his podium finish at the 24 Hours Of Le Mans with Corvette Racing is chopping of his splendiferous mullet for charity. While I'm sure everyone will be sad to see that beautiful masterpiece go, at least it's for a noble cause.
You would be forgiven for thinking that garden sheds have no place in contemporary motor racing, but I disagree. I would go as far as to suggest that a nation without garden sheds would find it difficult to compete in the high tech world of motorsport engineering and racing.
Unless you are reading this from Japan or are a big Super GT fan, Autopolis may well be the best track you've never heard of. Ironically, the reason for its failure to achieve international fame is also what makes it so special.
There's a guy in a suit who appears at the end of each Grand Prix, much like the G-Man in the video game Half-Life, and hands the drivers various items before the podium ceremony. Long-time Jalopnik Formula One correspondent Natalie Polgar loves him for his cool. —Ed.
After a winter off-season extended by the cancellation of the Bahrain Grand Prix, Formula One finally returned on a windy autumn afternoon in Melbourne. Four months without a Grand Prix, it would have been a fun race even if it weren't fun. But it was fun. Warning: spoilers.
An unusual Formula One season on an unusual track should produce the usual results, right? Maybe not—and definitely not at Spa. Potential spoilers in the crashgasmic gallery below.
A dozen men have walked on the Moon—and twelve Brits have won the British GP since first held in 1950 at Silverstone. Meet the men whose shoulders Jenson Button is set to stand on this Sunday.