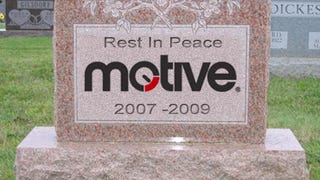 The Carpocalypse and the loss of Eddie Alterman to Car und Driver apparently means an untimely death for online-only quasi-buff book Motive Mag.
Since Version 1.0 and Version 2.0 of "You're Doing It Wrong" went over so well, and because Wert's out this afternoon, we decided it's high time to bring you Version 3.0!
We've covered both FAIL and "You're Doing It Wrong," and we saw they were good. What's better? More. Join us in watching people doing it wrong from every corner of the globe below.
At the Automotive X PRIZE debut party at the NY Auto Show there were a few interesting prototypes of cars their makers believed could meet the Auto X PRIZE requirements of making a marketable vehicle that gets 100 miles per gallon of dinojuice. The folks from Motive Industries were around to talk-up their proposed…
I happen to live in paradise Los Angeles, but for those of you in snowy, icy northern nightmares places, you might be very interested in the driving lesson that Motive is offering. It's called the Scandinavian Flick. Rally drivers, drifters and even my brother Hollywood stuntmen are all familiar with the technique. …

Stu Fowler over at Motive was caring enough to let us upload this simply wikkid video they put together of the 600 HP SRT10 Viper. For those of us who grew up watching Motor Trend TV on public access (or whatever) and then got cable and saw Clarkson and friends hooning cars around an abandoned air strip, Motive's…
What happens when the VW Vortex guys collide with the now defunct MPH A-squad? You get Motive, a new online magazine that can toss off pop-media references with the best ironic referrers, while getting elbow-deep into modern car stuff. In their premiere week, Motive takes a Ferrari 250 GTO replica to the high school…