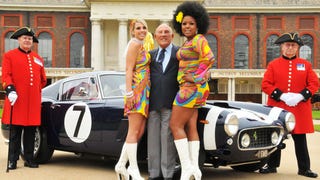 Variety, friends, is the spice of life. Sir Sterling Moss gets this, and is apparently equally happy driving something as nose heavy as a Ferrari 250GT SWB as he is nuzzling up to something with trunk-mounted motivation. Like a 911.
Retired Formula One driver and all-around hero Sir Stirling Moss fell three stories down an open elevator shaft yesterday, chipping four vertebrae, breaking both ankles and cracking four bones in his foot. Don't worry, according to doctors he'll be fine.
If you're one of the million gamers laying virtual tracks in Forza Motorsports 3, the Hot Holiday DLC pack offers ten cars with a combined 5,649 HP. Below, discover why you'll want these bruisers in your virtual garage.
We've covered the big tuning boys — Hennessey and Lingenfelter. Next up? The Fesler-Moss Limited Edition 2010 Camaro SS complete with custom body work and a built-to-order engine package even including the ZR1s LS9!
Randy Moss, the man who combined with Tom Brady to give us quite the fantasy football season last year (and, apparently, helped take the Patriots to the Super Bowl), is going to be starting a NASCAR Craftsman Truck Series team. Fox Sports is reporting that Moss hopes to get the team running in races later this year in…