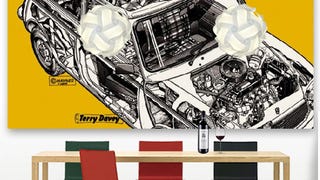 British printmaker Surface View is offering up giant prints of the artful and technical Haynes Manual drawings for purchase. Wouldn't you love a wall-sized yellow Mini for your wall?
Welcome to Down On The Street, where we admire old vehicles found parked on the streets of the Island That Rust Forgot: Alameda, California. Fresh off the boat from England, a RHD Minor Traveller!
Here we have one of the most weirdly choreographed car-crash scenes in cinematic history, taken from 1971 Jacques Tati film, Trafic.