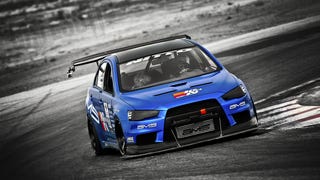 In 2008 this track-day beast started out as a stock Mitsubishi Evo X. It's had a few upgrades since then to eke out every last drop of power. The toy horse adds at least one more. [Gates311 via EyegasmicCars]
We were wondering amongst ourselves recently why Mitsubishi makes cars other than the Evo. None of them are even pretend interesting or competitive. So it's not surprising when we hear rumors Mitsu is considering making the Evo XI a hybrid.
With a 5-second penalty awarded for a missed goal, which of these two very different, precision machines will cover the course the fastest?
Mitsubishi, one of the preeminent sponsors of rally racing, announced today an indefinite halt to its racing efforts in an effort to conserve cash. The "Carpocalypse" strikes again.
Mitsubishi has revealed a new Lancer EVO X GSR Premium edition just for the Japanese Domestic Market, adding always-essential weight to the rally-inspired pocket rocket. Positioned above the RS and GSR trim levels, the Premium EVO gets 18-inch BBS rims, fog lights and body-color scoops on the outside; the real gains…
One Mitsubishi Lancer Evolution owner was understandably surprised when the gas pedal on his nearly new $40,000 car snapped off right under his foot. With just 2000 miles on the clock of his Evo X, the owner claims he was driving "with a little enthusiasm," pressed down on the gas pedal "as I normally would", at which…
Yesterday, we were surprised and relieved to see that the 2008 Mitsubishi Lancer Evolution MR managed to package real Evo performance into a package that was both livable and restrained. Now it seems the aftermarket is doing everything possible to counteract both of those qualities with tacky, non-functional carbon…
We don't really understand Mitsubishi anymore. They once offered a selection of great cars combining looking good and going fast. In the last couple of years, we've felt like their design department has lost their way, the quality has slipped and the only car worth talking about is a boy-racer sedan with a sticker…
The new Mitsubishi Evolution X is already a great performer, but what happens when you give it to a tuning company like HKS? No surprise, they've made it better. The HKS Evo makes 382 HP, about 97 HP more than the standard Evo. Even better, that figure comes at 6230 RPM, about 790 revs lower than the power peak from…
No, I'm not saying that I personally have a Nissan GT-R. I'm talking about Mine's, the Japanese Tuner of Gran Turismo and Best Motoring fame. Recently, they brought their R35 GT-R with all the Mine's go-fast goodies to the Tsukuba Circuit to do some testing, and they left with a best lap of 59.367 seconds. To put this…