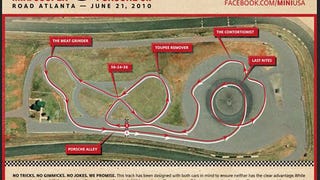 Mini wanted to race Porsche at Road Atlanta; Porsche said no. Hyundai stepped up, everyone shrugged, and then Mini revealed the track. Turns out it's not really Road Atlanta. It's a parking lot. We're supposed to get excited about this?
The sky above Porsche's North American headquarters hosted a Mini banner this morning that read "Dear Porsche, Bring It! Love, Mini." It appears Mini isn't backing down from its challenge, even if Porsche is.
Porsche has declined Mini's offer to pit a 911 Carrera S against Mini Cooper S at Road Atlanta next week. Here is Porsche Cars North America President Detlev Von Platen explanation for why.
Mini is using the power of the Internet to challenge Porsche to a race, pitting their Mini Cooper S against Porsche's superior 911 Carrera S two weeks from today at Road Atlanta. Surprisingly, Porsche is actually considering it.