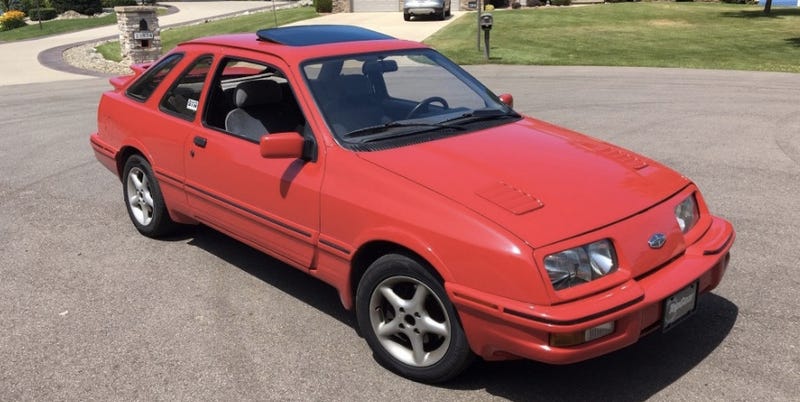 "Are we in the tree of trust? The trust tree?" the text demanded to know. We were. A few weeks later I was driving a Merkur the color of cheap lipstick from Georgia to Virginia. The XR4Ti had gone from Tanner Foust to Rutledge Wood to Me and then to another kid named Matt. And now you can own it. Buy this car.
It's been a bad secret for the last few months, but I thought I should let everyone know, officially, that I am the proud owner of the most famous Merkur XR4Ti in the world. This is similar to having the world's most famous spaetzle press in that it's not particularly impressive, vaguely German, and a completely…
With Mercury moribund, not only does its slate of badge-engineered American cars fade into history, but also a series of Euro imports. That makes today's Nice Price or Crack Pipe Merkur an orphan's orphan, and it's seeking a Daddy Warbucks.
Welcome to Down On The Street, where we admire old vehicles found parked on the streets of the Island That Rust Forgot: Alameda, California. Yes, I'm back in California this weekend, so it's time for an Alameda flashback!
The Türbö Schnitzel XR4Ti has competed in several LeMons events here in South Carolina, with predictable results each time: KABOOM! Obviously, an XR4Ti must have a turbocharged Ford engine, but there's no law that says it can't be a V8!
A world apart from bestickered American rally professionals with comic-book names, we join the the snow drifters of Hungary, who like it cold, fast, and loud.
Whether an engine or a steering wheel, parts-sharing is an easy way for manufacturers to save money. Still, many car owners may be surprised by what parts get shared. Here's 12 unlikely examples.
Seems the boss-man has been moonlighting again over at Popular Mechanics, this time advising Detroit about which of its dead nameplates should remain six feet under. We won't give away Ray's picks; you'll have to head over to PopMech for those, but we've tossed our own version together after the jump.
We love the '80s and not just for Rick Astley, Members Only jackets and New Coke. All that's well and good, but what we really love can be described in one italicized, chromed plastic-emblemed word: TURBO. The 80's economy forced automakers to use weaker and smaller engines, so to boost power we all turned to…