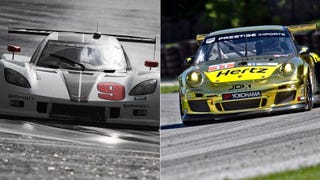 We enjoy the sports car racing and famous battles in Grand Am but tend to prefer the field and races of the American Le Mans Series and never watch enough of either because of unfortunate scheduling, thus it is with pure joy and an extreme erection that we greet the exclusive news from SPEED that the two are merging…
Imagine you're an AirTran pilot. You might be nervous about your job, or Southwest's corporate culture. Then you might see this video, where you're promised instruction on how to roll a 400-pound granny down the jetway. Helloooo, new corporate overlords!
News of Ford and General Motors discussions concerning engine collaboration as a way to cut R&D costs has some wondering what the limits of partnership might be. Could a tie-up on engines lay the groundwork for a great partnership? Most importantly: Should they go further — should they merge?
Ha! You thought that Department of Justice approval was the finish line for the long, drawn out satellite radio merger? Well, it wasn't, but the end is getting closer as Federal Communications Commission Chairman Kevin Martin is reportedly officially backing the merger. There were also some interesting concessions…
Remember that Sirius and XM merger that was announced well over a year ago? Well, it FINALLY was approved by the Department of Justice. Basically this means everything went through and all that is approval from the Federal Communications Commission that should be easier than the DOJ, presumably. This was the biggest…
Exactly one year after the initial announcement of the Sirius and XM merger, exactly nothing has happened, so it's no surprise that Sirius has decided to go ahead and extend its partnership with Chrysler. The deal will make Sirius the exclusive satellite radio provider in Chrysler, Jeep and Dodge model through 2017.…
Seriously, has it been that long? All I want is for the two to finally kiss, make up, merge and make everyone happy, especially the million upon millions of users of satellite radio in the home or on the road. Last night, something went down that caused Matt Drudge, of the infamous Drudge Report, to sound the sirens…
Shanghai Automotive (SAIC) has devoured the smaller Nanjing Automobile to make an even larger state-owned automotive company. In the deal, SAIC gets increased capacity in order to compete with foreign car companies and Nanjing will get approximately 320 million shares of SAIC. Though we've had a bit of bad luck with…
It's been 10 months, so what the hell is going on with that Sirius and XM satellite radio merger? Eh, it's a bunch of bureaucratic BS, but the Department of Justice should be giving approval by the end of the year with the final ballbuster, the FCC, hopefully giving the go ahead in February. Apparently investors people…
Too busy to bid on Chrysler, AB Volvo (the Volvo company that makes trucks) offered to purchase Japan-based Nissan Diesel for $1.1 billion, or 5.5 billion ramen noodle packs at the current rate of exchange. Volvo already has a 19% stake in the company and hopes to close the deal soon to prepare for new Japanese…