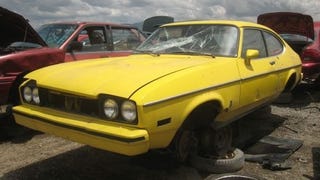 If you ever needed proof that the Mercury marque suffered from puzzling, left-handed FoMoCo branding strategies over the years, the first-gen Capri will serve nicely. Sold by Mercury dealers in North America, but not as a Mercury... what the hell?
After a few years of double-digit annual inflation in the late 1970s, Americans had become accustomed to Malaise Era interest rates. That's why Mercury's offer of a mere 12 percent APR sounded pretty good.
I look at a lot of Craigslist listings for cars when doing research for Project Car Hell and/or potential 24 Hours Of LeMons racers, and it's ice-water-in-Hell refreshing to find a seller who's honest about his or her Hell Project.
Welcome to Down On The Street, where we admire old vehicles found parked on the streets of the Island That Rust Forgot: Alameda, California. Is this a Mercury or a Ford?
Want to get the latest updates on the Team Dungeons & Dragsters Capri? Looking to join a LeMons team with last-minute personnel shortages? The official 24 Hours Of LeMons Forums have finally gone live!
How is it possible that a car weighing just over 2,200 pounds and equipped with a 2-liter engine can drive from Phoenix to Los Angeles at the maddeningly geriatric speed of 50 miles per hour and manage only a pathetic 32.4 miles per gallon? Yes, that's the best the '74 Capri could do! We're thinking it was the weight…