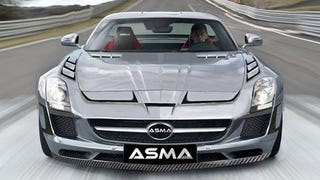 Take one perfectly good Mercedes SLS AMG and throw a rice bucket full of vents, slats and carbon fiber at it. ASMA has applied its time-honored approach to the new Gullwing. Expect details and photos from Geneva. [ASMA]
The ad campaign for the gullwing door-equipped Mercedes SLS AMG fulfills two fantasies every real car guy has: driving upside down on the roof of a tunnel and getting Michael Schumacher to wink at you. Swoon.
We're not yet able to show you official images of the Mercedes AMG SLS Gullwing, but we now can show you some details thanks to this 22-page leaked dealer ordering guide. Anyone up for a $10,000 paint option?
Development is wrapping up on the Mercedes AMG SLS Gullwing, the all-new, 571 HP gull-winged velvet hammer from Stuttgart. A sneak peek of the beast inside.
Not only will you be able to fulfill your retro-throwback 300SL dreams with the upcoming Mercedes SLS AMG Gullwing, but you may also get a Roadster version, obviously sans-Gullwing. Oh, how Bruce!
We have an early peak at the Mercedes SLS AMG Gullwing thanks to a series of leaked sketches and interior photos that reveal a brawny yet sexy new super coupe with a luxo-sport interior.
If, like us, you were bored by the gullwing-door Mercedes SLS AMG "spy photos," here's something actually cool — the upcoming SLS AMG's 6.3-liter V8 exploded, allowing us to see every gorgeous bit.
Last time the new Mercedes SLC was caught on camera, the big gullwing doors were in the attack position. This time, the doors were apparently in the same position and either the spy-shooting camera, or scanner of a dealer photo of some sort, was much closer. How close? Well, that picture above we've received from our…
The gullwing door-equipped penile extension that is the forthcoming Mercedes SLC replacement was just snapped leaving its lair for a test run, as we can see in these shots. These pictures provide the clearest look yet at the new uber-car-to-be and allow us to note how long the wheelbase is, making it noticeably…