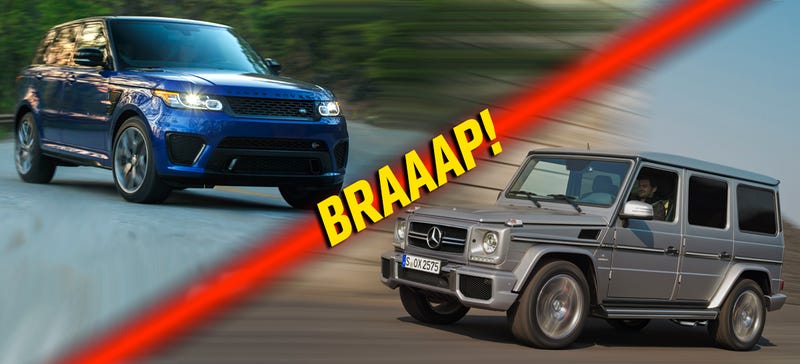 The superfast SUV segment is like a Marvel movie. So extreme that everything's a caricature, making it great and stupid and wicked entertaining. That makes the Mercedes G63 AMG the ultimate supervillan, and the 2016 Range Rover Sport SVR is speeding toward it in an Iron Man suit.

In most cases, it's pretty hard to digest what Mansory does to cars, but this camouflaged carbon fiber G 63 AMG with the feathers and the falcons is a big fat high five.
Our Truck Yeah! man Andrew drove the $136,625 Mercedes G63 AMG, he was less than thrilled with it. Anytime an automaker charges over 100 grand for an SUV, it better be amazing. I'm really more of a wagon guy, but if I were going to spend that kind of dough on a luxury truck, I say the only choice is Cayenne Turbo.
Mercedes-Benz tuner Brabus has revisited the AMG trims of the ML and GL SUVs to add more power, more swag, and — well, you know how these things turn out.
Let's be honest: the military-aircraft-chasing-a-car formula is getting a little tired. However, Top Gear USA actually did a great riff on the cliché with some trees and a very sideways, very big Mercedes G-Wagen.