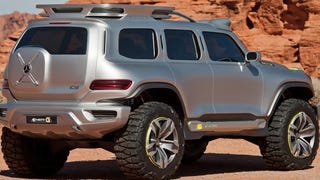 Wanna roll like a Kardashian/NBA player/Russian gangster but can't afford the lease payments? Mercedes-Benz may soon have you covered, friend. The automaker is reportedly prepping a baby Mercedes G-Class, but it won't be a rugged SUV like its big brother — it will be a crossover.
Because fans of lunatic off-road machines with boosted V8s would protest, Mercedes is continuing to update its very old and very awesome G-Class. But to keep it remotely current in today's automotive landscape, the company is reportedly going to redo everything about it – except for the way generally it looks.
Über-tuner BRABUS claims their Gelandewagen is the most powerful off-roader in the world — and they've got a tuned Mercedes V12 Biturbo with nearly a grand of torque under the hood as exhibit A.
In 1979, the first Gelandewagen, debuted. Built to take over small countries, the über-cool G-wagen is testosterone incarnate. Below we look at the 11 best special versions ever built of this brutishly beautiful Benz.
The Mercedes Benz G-Wagon is a safari car everyone can love, despite its recent usurpation by fashionistas and the affluent douchebag class. For 2009 the Galendenwagen gets the three bar grille spreading like a virus from Ford to Mercedes, and new wheels, but more importantly a much more powerful engine. For '09, the…