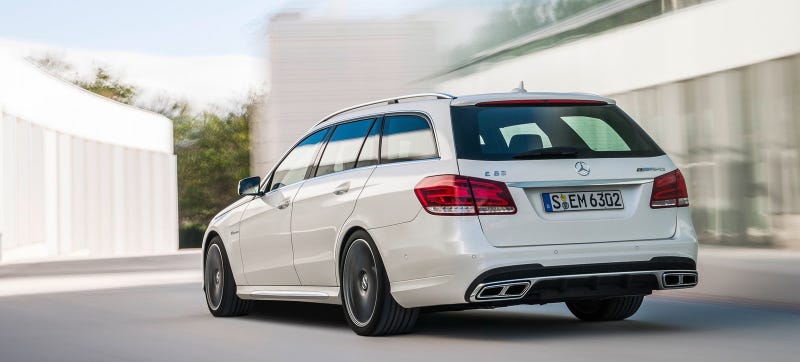 Prepare yourself, because you're about to see a metric shit ton of crashed AMGs. Yes, Drift Mode is coming to Mercedes.
Scottish DTM driver/knockout Susie Stoddart took seventh at Lausitzring this weekend, earning her first points in the German touring car series. She also got sideways in this 525 HP Mercedes E63 AMG Wagon. So. Much. Hotness. [via @Cbaccus]
Evo's Chris Harris came to the same conclusion we did about the 2010 Mercedes E63 AMG: it's a return to greatness for a brand that no longer belongs in Boca. Except he got there in a very different way: sideways.
Need to haul a couple Labradors at 155 MPH? The 2010 Mercedes E63 AMG wagon is probably your best bet. It adds 69 cubic feet of storage space to the 6.2-liter V8's 525 HP. If only it were coming here.
With a 7-speed gearbox and 518 HP, the 2010 Mercedes E63 AMG sounds like one hell of a performance sedan. Of course, the 465 Lb-Ft of Torque and 186 MPH top speed help too.