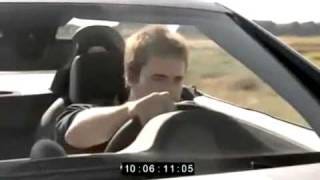 Over the weekend, a French promo film featuring the 2012 Mercedes-Benz SLK found its way onto the web. Our question — was the new Sportlich, Leicht und Kurz Benz an accidental leak or an attempted viral reveal? (H/t to everyone!)
Our spy shooters spotted the next-generation Mercedes SLK taking a spin in Germany seemingly borrowing styling from the revealed Mercedes SLS AMG. Unfortunately, the big "63" on the side doesn't indicate a 6.3-liter AMG V8 under the hood. More below.
Wrecked Exotics has put together a list of the fastest crashes they've ever seen and it's quite the compendium of carnage. Below, evidence proving bad decision making will eventually catch up to you.
Not all days at the Nürburgring are rainbows and unicorns, as evidenced by this 2012 Mercedes SLK prototype breaking down and spewing smoke in the tester's first run. Yeah, that's a bad day.
Remember those photos of the 2009 Mercedes Benz SLK we showed you yesterday? They're real. Seriously. Touch them. We don't mind. And now we've got more of them. The European version is going to get a refined version of the supercharged four with a boost to 184 hp as well as a worked over V6 good for an additional 33…