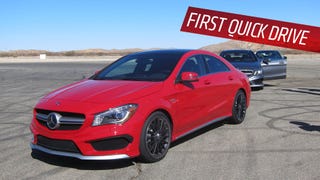 Aside from the somewhat sad joy of flinging a car I'll never, ever get to own around a track, AMG was also thoughtful enough to taunt me with a car that, under the ideal circumstances (finding a used one that a rogue zoo chimp masturbated in for a week) I may just be able to afford one day: the CLA45 AMG.
The new Mercedes-Benz CLA-Class is unfathomably gorgeous. It looks incredible, it's priced to sell, and in CLA45 AMG form it has 360 horsepower from just a 2.0-liter turbo four. Now it's getting suited up for racing duty. Sexy, sexy racing duty.
Despite a price that puts the brawny CLA 45 AMG at roughly the equivalent of two V6 Mustangs, there's no way to get a new über German car any cheaper than the $47,450 suggested price.