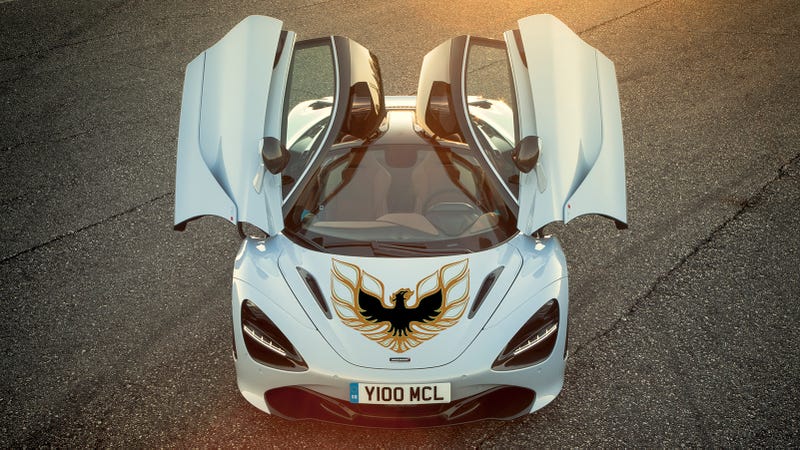 McLaren is building some of the most impressive performance cars on Earth right now. And if you've really got bucks, McLaren Special Operations offers "almost limitless customization" for your new machine. But sawing a 720S into a high-rent Burt Reynoldsmobile is apparently a line that shall not be crossed.

McLaren Special Operations is selling McLaren F1 chassis #069 (nice) with less than 2,800 miles on its clock for somewhere between $12 to 14 million will all the usual bells and whistles, yet it is our understanding that a Compaq LTE 5280 is not part of the deal.
This is a Compaq LTE 5280 laptop from the early 1990s, running a bespoke CA card. In 2016, McLaren Automotive—one of the most high-tech car and technology companies on the planet—still uses it and its DOS-based software to service the remaining hundred McLaren F1s out there, each valued at $10 million or more.

This McLaren P1 comes to us courtesy of Evan Wawrzyniak and McLaren Special Operations, and it might be the first car we've ever featured with a doctorate. Say hello to Professor 2 Blue (and sorry your rap name got taken).
While this isn't one of the road-legal P1 GTRs yet, McLaren Special Operations certainly had to go a bit crazy with the airbrush for this customer.
Just look at it, it's great, isn't it? This will be at Pebble Beach from McLaren Special Operations, along with a blue 650S. Oh, and the 986 horsepower, ultra-limited McLaren P1 GTR, of course.
The McLaren 650S is barely on the market, but that doesn't mean they couldn't roll out an upgrade just ahead of the supercar's Chinese tour. Meet the MSP 650S Concept.
McLaren's stand was always busy at the Geneva Motor Show, with great people around including Ron Dennis himself. They also had the best dessert, champagne, the MP4-12C with and without a roof and the F1 LM XP1. Of course the main attraction was the P1 hypercar, and we talked to someone who probably knows more about…
There is no doubt that the McLaren MP4-12C is one of the top performing cars on the road. But many have criticized the styling as a bit too boring to be on a supercar.