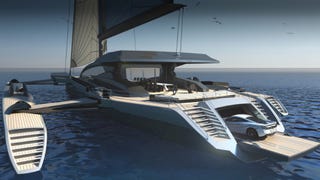 The McLaren MP4-12C has won nothing but plaudits from those who've been fortunate enough to drive one. Among those fortunate enough to pay at least $230,000 for one, there's a different story emerging — about broken parts, defective doors and unkept promises from the factory.
Jenson Button and Lewis Hamilton were recently filmed walking through the McLaren Formula 1 team's warehouse of old cars. This video is rumored to be unscripted. Get ready to geek out on some serious Senna.
Yes, but it's a $1.6 million piece of junk that can likely leave your new super car sucking wind in a straight line. [ArabianBusinesss]
Like a couple kids in a very expensive, very fast candy store, Lewis Hamilton and Jenson Button hit the track in pre-production McLaren MP4-12C's to have some fun ahead of today's unveiling. Must be a hard life.
Jenson Button and Lewis Hamilton officially unveiled the new McLaren MP4-12C earlier today at the ribbon-cutting of McLaren's new production center.