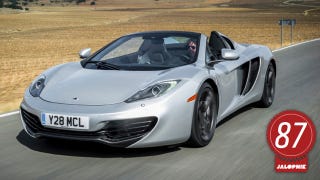 McLaren was predestined to build a version of its MP4-12C for the pate-tanning set. But is the new Spider as good as the closed-top coupe that shares its nerdy alphanumer-name, or is it — like most other convertibles — a tragedy of compromise? Let's head to Spain and find out.
McLaren unveiled the 12C Spider at the Classic Car Club Manhattan last week, and they invited Jalopnik along. There was an F1 car, three new Maccas, fashionable men and beautiful women and us two galoots.
Here in Monterey for AWESUM CAR WEEK 2012!!!!!11111!11 (aka Pebble Beach), McLaren popped eyeballs with a raging-PMY-painted 12C Spider. The unveiling happened at a private party for the Gooding Moneybags Car Auction at the Pebble Beach Center For Horses That Cost More Than We'd Make If We Lived To Be 800 Years Old.
McLaren spares no expenses on its new car launch videos. The Sharper Image supercar 12C Spider gets top-dollar treatment here at the Ascari test track, on closed mountain roads, and with cinema-quality RED cameras.
We weren't wrong when we said the McLaren 12C Spider will go 186 MPH with no roof, but we could have been more right. The roof-less MP4-12C will actually keep going and hit 204 MPH.
Imagine driving at speeds approaching 200 mph in an open convertible. Imagine a McLaren MP4-12C without a roof. McLaren's 616 hp twin-turbo V8 powered 12C Spider can do just that. We know because Formula 1 driver Jenon Button has been there and done that.