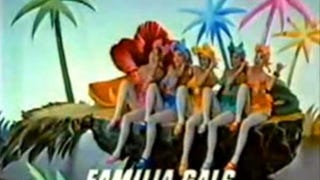 Even by the standards of Japanese-market car ads, this one for the '84 Mazda Familia (aka 323) seems exceptionally incomprehensible. There's what appears to be a fuzzy Dustbuster. There are oversized backpacks. And, of course, the Familia Gals!
Norwegian police arrested a motoring couple after observing them engaged in high-speed hanky-panky in their Mazda 323.

$3,480 sounds cheap, but the '78 Chevette Scooter went for $2,999. Still, the Mazda GLC was a good deal. Can you imagine a carmaker using the word "little" in their marketing today?
Welcome to Project Car Hell, where you choose your eternity by selecting the project that's the coolest... and the most hellish! Like chlamydia and financial crises, turbocharging was hot in the 80s…