Does Max polish his helmet before every practice? Or just when he feels like he's in the mood for a little helmet-polishing? Does anyone know if they serve oysters in the garage?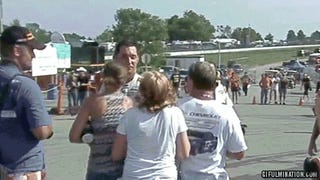 A number of incidents at the end of last week's NASCAR Truck race led to a near brawl between the crews of Max Papis and Mike Skeen. Skeen's girlfriend took things into her own hands, slapping Max Papis. Now NASCAR has shown its hand and banned Skeen's girlfriend from events indefinitely.
If you missed the Max Papis slap yesterday we've got a GIF of it below. Needless to say, they're going to start calling him 'Glass Jaw' Papis now that he claims the slap dislocated his jaw. Really?