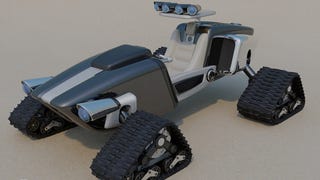 The "Dune Tracer Concept" created by Diseno-Art combines an open-top dune-buggy with tracks for a nifty off-road appliance. Back in reality you can already build the equivalent by installing a Mattracks system on a four-wheeler. [Diseno-Art]
The lugubrious trials of a long and weird winter are coming to an end, but whether you're in Bozeman, Montana or Houston, Texas, chances are you could've used the Mattracks Powerboard stand-up snowmobile sometime this season.
This is Ken Block's latest toy, a 400HP Subaru WRX STI, stripped and caged and outfitted with a set of Mattracks all-terrain tracks debuted today at SEMA. Is it badass? Yes. Would we sell our eye-teeth for one? Probably.
While driving up and down the street ripping e-brake turns in the snow while driving your Subaru Justy is cool and all, it ranks low on the old hoon-o-meter. Do the same thing with a set of Mattracks and an exhaust note reminiscent of the four horsemen of the Apocalypse raining down terror on civilization and the…