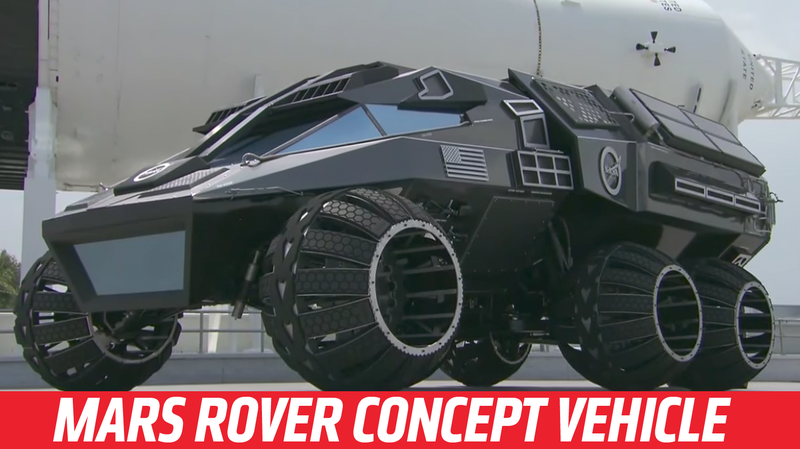 Concept cars are fun, but they're not really meant to be taken as something that will actually be produced. They exist to get attention, push a new design direction and act as a vanguard for new ideas. They're exciting. That's pretty much what was shown at the Kennedy Space Center yesterday: a concept car for Mars.
Cars –- they aren't just for Earth anymore! Proving that America still has mad space exploration skills, NASA sent a highly advanced roving vehicle to Mars last week to research conditions on the Red Planet. But while the Curiosity has gotten a great deal of attention in the news lately, it isn't the first time we've…
Ford has released this very helpful guide comparing the new 2013 Ford Raptor to the 2012 model NASA Curiosity Mars Rover, for those of you comparison shopping. Both are impressive vehicles, and this nice, tall-format chart really takes the guesswork out of a complex evaluation.
With a little vision and a copy of SketchBook Pro ($89 at Amazon) it's possible to design your very own sci-fi rover — complete with Martian-esque background — in about 80 minutes. Here's the memorizing video showing how.
After five years on martian soil, everyone's favorite Mars rover might be done for good if NASA's engineers can't figure out a way to remove her from the rock-studded soft Martian soil.
Although it might seem like a headline from The Onion, the story's actually true. NASA's being forced to cut four million dollars from the Mars rover project. In order to meet that requirement, they'll have to put one rover, Spirit, to sleep — a "hibernation" period. The team at NASA's Jet Propulsion Lab (JPL) will…