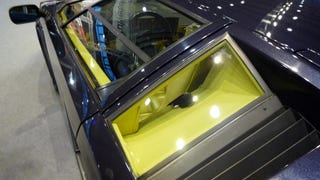 When Marcello Gandini inoculated fantasy spaceship design into cars, he had bigger things to worry about than rear visibility. Like scissor doors. This window looks straight into an air intake. Like we care. It's a Countach! Photo: Axel Griesinger
Well into the second century of the automobile, new vehicles can't help but be a portmanteau of earlier designs. Even those that believe they're a new segment. Let's see some of the recently-revealed Acura ZDX's forefathers.
When Jason Castriota left Pininfarina for Bertone, it was like switching to Coke after a lifetime of Pepsi. Let's examine a design element he's started using that's alien to Pininfarina but essential to Bertone.