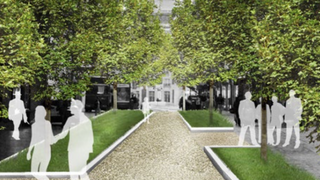 Cities have been kicking out cars to curb pollution and boost the well-being of their residents. But Madrid has proposed something even smarter. It's not only banning cars from its downtown, it's adding more green space. This is an important part of the equation that many cities don't get right.
This week, Madrid became the first European city to launch a fully electric bike share system for its residents. It works just like a regular bike share, but better: An electric motor kicks in to help with pedaling, and most importantly, give you an extra push up hills. Why isn't this standard for bike shares…
What is it with police cars, as of late? The Brits just got an Ariel Atom, the Italians have a Huracan, Dubai has a Veyron, and now Madrid just got two sweet Renault Mégane RS hatchbacks. Getting arrested has never been so good.
Toyota rolled out its newest Avansis, the company's European flagship (which competes in the wacky Euro-focused "upper medium D segment") at the Madrid show today. The new model has slightly more visual interest than the previous model, though it retains its conservative, salaryman's-special profile. Word is the…
There's more evidence that someone's piping gaseous psychocybin into the Fiat Style Centre. The company's unveiling its latest creation, the Ducato Truckster (not to be confused with the Family Truckster), at the Madrid motor show this week. Built in collaboration with Bosch, Behr, Sumitomo Group, Denso Thermal System…
Citro n's taking the wraps off its latest radical prototype, the C-Buggy — a futuristic tribute to the shagorific Meyers Manx dune buggies of yore — at the Madrid motor show next week. Like VW's EcoRacer concept, the C-Buggy is intended to show a sportier side of diesel engines; it's powered by a 173hp, twin-turbo…
Get those Speedos packed, and make sure the E is the good shit this time, not that stuff from Delaware or wherever. The Madrid motor show's calling, and... We're not going. But don't cry for us, Ibiza, we're still planning to get all the updates as they happen, or when anyone in the city wakes up from snoozing at…
Raise your sangrias, gentlemen; a new crossover will be unveiled in Spain next month. The Car Connection reports Kia's redesigned Carens crossover (sketch, above) — set to be introduced at the Madrid auto show in May — will be introduced in the US as the Rondo. The new seven-seater, which will join a fleet of US-bound…