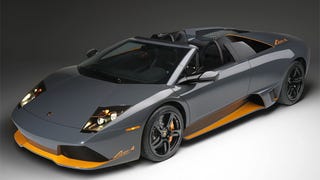 Lamborghini's latest attempt to wow the world's bull fighters, the limited edition LP650-4 Roadster, made its first appearance this morning in a Geneva dealership, completely missing the supercargasm called the Geneva Motor Show.
A single image of the upcoming Lamborghini LP650-4 Roadster popped up last week, but thanks to our friends at LamboCars, we've got this full presentation with loads of images snatched out from Lamborghini's secret lair.
This silver-and-orange roadster is reportedly the Lamborghini Murciélago LP650-4, the uncovered sequel to the LP640. According to Autoblog.nl, there will only be 50 of these special edition, 6.5-liter V12-engined monsters produced.