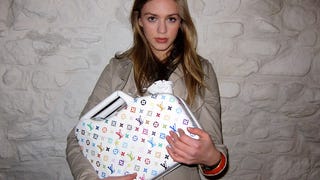 Louis Vuitton does not make portable gas cans. Neither does Chanel. Thus the genius of Death Spray Custom's "Lady Cans," the perfect gift for the style-obsessed, globe-trotting Jeep driver. So no one, really.
Further evidence trashy fashion and cars don't mix: an eBay auction for a V6 Jeep Grand Cherokee tastelessly customized with a Louis Vuitton pattern paint job and matching interior. Unsurprisingly it failed to meet its reserve.
So Louis Vuitton can make bags for a pretty non-existing car. Cool. How about making bags for an ugly non-existing car which is way faster?
Hard to imagine a stranger marketing fit than French luxury bag maker Louis Vuitton and Infiniti, Nissan's re-badged luxury brand, but they're partnering on a new concept debuting at the 2009 Geneva Motor Show.
Obviously the thought of Prada buying Jaguar's just plain silly, but according to the German motor weekly Autobild will report tomorrow LVMH Moet Hennessy Louis Vuitton SA (and we think there's some other luxe brands in there too!) has agreed to acquire Ford Motor Co.'s Aston Martin brand. Additionally, Autobild's…
The Financial Times reported earlier today Bernard Arnault and Albert Frere, the billionaire financiers, joined together to create an investment fund of up to a billion euros ($1.25 billion) and "they are looking at Aston Martin." Since Arnault is chairman and chief executive of luxury goods retailer LVMH Moet…