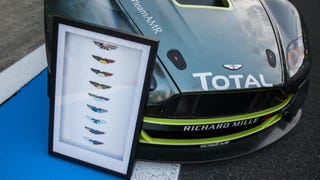 Discard those angry email drafts, and put the torches and pitchforks back in the shed. Aston Martin is not—I repeat, not—changing their iconic logo, per Aston Martin president and CEO Andy Palmer himself. Our circular nightmare is over, guys. We're finally home safe.

Some cars are meant to be driven as is. Modifications should be minimal, if even present. Some are meant to be restored to former glory. Some are meant to be returned to original condition for the purposes of flipping. But some cars are meant to become experiments, concept cars even. I consider my Honda Logo TS to be…
Now, I've really got nothing against Wheels, the automotive blog of the New York Times, but the logo they use for the blog is so wrong for an automotive blog I had to say something.
Artist Timothy Raines focuses much of his talent on automobile logos in his series "Brand As Art." He makes the Cavillino in these works Rampante and spreads Bentley's wings with a triptych. Glorious and gorgeous!
While we were cooing like babies over loud noises and airborne explosions, Toyota's official Open Road Blog spent some time navel-gazing over the long holiday weekend. The lint ball of choice was the Toyota logo and the company's official version of what it means. Yes, friends, it appears they plan to take over the…