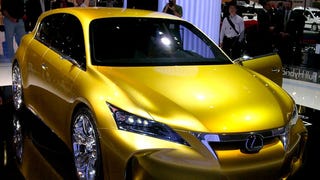 The Lexus LF-Ch comes with tiny mirrors, flashy paint and hybrid drive system you'd expect from a concept. But don't dismiss it, this is Lexus taking direct aim at the Audi A3 and BMW 1-series.
Lexus today officially revealed the LF-Ch hybrid concept — an itty-bitty five-door hatchback designed to prove Lexus can fit luxury into a small package. Well, as long as consumers react favorably to it. Full gallery and press release below.
The Lexus LF-Ch hybrid concept, set for a Frankfurt Motor Show unveiling, is sporting an angry snout in this first frontal view, indicating it's ready to take on Europe's finest premium compact competitors.
The Lexus LF-Ch concept will debut at the Frankfurt Motor Show and will lead to a production FWD, 5-door hatchback designed to rival the Audi A3 and BMW 1-Series.