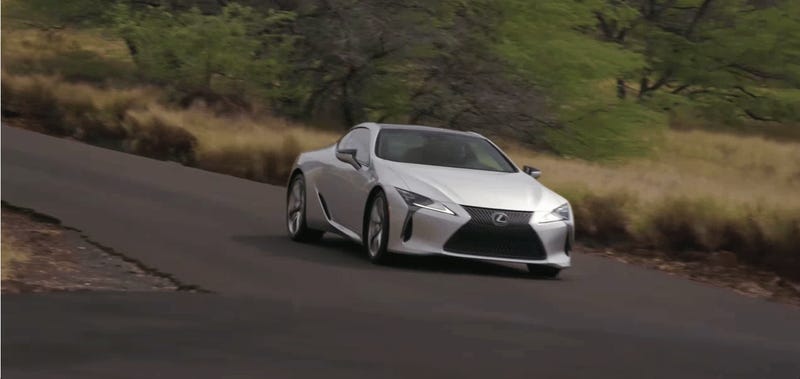 Evidently the 1990s are back. The Acura NSX is back, the Toyota Supra is going to be a thing again, the Mazda RX-7 is about to make a comeback (LOL just kidding that will never happen) and when Lexus wants to make a big dramatic statement, it unleashes a huge luxury coupe with a naturally aspirated V8 engine. Such is…
Want a massive, comfortable, beautiful Lexus coupe with a naturally-aspirated V8? The Lexus LC 500 will cost you no less than $92,000. If you're curious, that's around $20,000 less than its German rivals.
The Lexus LC 500 was full of surprises at the Detroit Auto Show. Besides the car's flashy concept-like looks and rear-drive layout, it also shocked us with its naturally-aspirated 5.0-liter, 467 horsepower V8 engine; no turbos, no electrification. Old school! But it turns out Lexus had a hybrid version in the cards…
For years, Toyota CEO, racer and general speed enthusiast Akio Toyoda has wanted to shake his company's staid image—in particular Lexus, a brand that runs against top-shelf performance automakers like BMW, Audi and Mercedes. In Detroit yesterday, he fired his biggest shot in that direction with the stunning LC 500…
The new Lexus LC 500 isn't just a new car for the company; it's a new rear-drive "premium" platform. It does, however, get a very familiar 467-horsepower engine. Besides all that, it looks completely unreal.