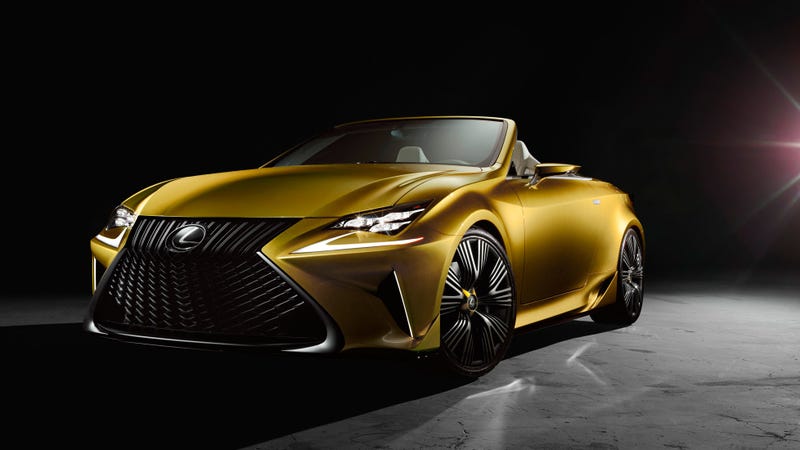 The Lexus LC 500: A sleek and beautiful V8 spaceship, nearly perfect in every way, except for the fact that it lacks convertible and high-performance versions. But that just might be in the cards for it, according to this latest rumor.
Hello and welcome to 2018! If you need some good news to start this year, please be advised that the famous and controversial Japanese tuning house Liberty Walk has begun messing with the normally classy and stately Lexus LC. This is a good thing.
The police cruiser sidled into my rearview mirror and my hands reflexively tightened on the 2018 Lexus LC 500's leather-clad steering wheel. Shit. I was sure I hadn't just done anything illegal. Well, pretty sure.

Evidently the 1990s are back. The Acura NSX is back, the Toyota Supra is going to be a thing again, the Mazda RX-7 is about to make a comeback (LOL just kidding that will never happen) and when Lexus wants to make a big dramatic statement, it unleashes a huge luxury coupe with a naturally aspirated V8 engine. Such is…
Want a massive, comfortable, beautiful Lexus coupe with a naturally-aspirated V8? The Lexus LC 500 will cost you no less than $92,000. If you're curious, that's around $20,000 less than its German rivals.
The Lexus LC 500 was full of surprises at the Detroit Auto Show. Besides the car's flashy concept-like looks and rear-drive layout, it also shocked us with its naturally-aspirated 5.0-liter, 467 horsepower V8 engine; no turbos, no electrification. Old school! But it turns out Lexus had a hybrid version in the cards…