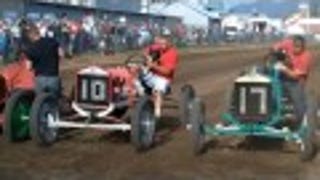 There's some weird-ass racing out in America. Did you know there's a sport known colloquially as "Pig 'N Ford" racing? Hand to God, these guys begin with a Le Mans-style start, dash across the course, grab a pig from a pen, hand-crank their Model T racers, jump in and do a lap. That's a thing, and it's not even the…
"That lawn's ain't gonna mow itself," she says. "But it's hailing God's dandruff out there," he replies. "Never you mind. Get on that tractor and don't come back 'till it's mowed," she says. Thanks to SWAT, there he is.
What's one activity that hasn't yet been painted with the green brush? Mowing! Luckily we're more excited about the Husqvarna Panthera Leo's five motors than we are its recycled materials.
Monster Mower? Why yes, thank you. This beast looks like a creation which leapt, fully formed, from the mind of Home Improvement's power crazed Tim Taylor. More power! Huge tires! Car smashing burnouts! Yes, yes, oh God yes. Hey let's see if it floats! Yee-haw — it does! This baby is the ultimate fishing platform and…
Sometimes it's so easy to be proud of your fellow statesmen. Let's say you live in Adrian, Michigan, your wife has taken the car, you have run out of wine, and there's a snowstorm raging outside. What would you do? If you were Frank Kozumplik, you would hop on your John Deere lawn mower and drive down the middle of…
This conceptual F1 lawn mower is so hot that the grass would thank you and your kids would be fighting over who gets to do the yard work. Masterfully designed and rendered by Frenchman Kadeg Boucher, this sleek beast features a number of clever touches including an LCD gauge steering wheel, F1-style front wing,…

We've dropped love to MowZilla before, but if you didn't see it before, it's "...the Original Nitrous powered push lawn mower! It is equipped with a nitrous purge, a Cherry Bomb muffler, K&N airfilter and NOS Powershot with 20lb bottle!" Sounds sweet, right? Yeah, and that's why we wanted to drop an update on the…
One summer, we had a job cutting the grass for several hookers who rented a house around the corner from our local middle school. We never confirmed they were hookers, but they voluntarily paid three times our normal mowing rate, and guys in suits often "visited" via a side entrance. Their unkempt yard had been…
Ah, the new-school power of nitrous oxide blended with the jet set trash and no star world of Cherry Bomb mufflers, all wedded to a hand-me-down lawnmower. The hooligans at Callie's Customs came up with what should by all rights be a massively overcarbureted mower (an Edelbrock 750? WTF!?!), but apparently the things…
Take one Memorial Day celebration among friends, add sufficient quantities of alcohol and lawn implements and one craggy yard, and you've got yerself the res-pee of some hoon-like conduct. Really, what's a lawn tractor good for when you've got no lawn? That's right. Racin'. [If you've got a video worthy of Jalopnik's…
We've always dreamed of owning a Honda riding mower stuffed with a CBR XX Blackbird motor in it. Unfortunately, right now we're a bit short short of acreage in the lawn department. Plus, the thing would probably eliminate more grass with its rear tires than it would with the blade. But still, boys dream of one day…