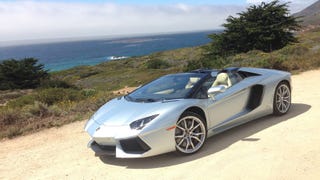 If only for the photos. Also, worth noting, that a Lamborghini Aventador Roadster always looks better with more doors open. All the doors. The better to hear the engine snap, crackle, and pop.
Topless supercars have come a long way since Lamborghini first chopped the roof off a Diablo, transforming it from merely sketchy to highly suspect. Back then, convertible versions were just a means to hoover up dumb money, a nod to buyers just barely more likely to take a V12 sports car to its limits than arrive in…
This is the Lamborghini Aventador J (not Unica). It's a very, very open variation of the Aventador. The J (the appended letter is taken from the "Appendix J" FIA motorsport rules that describes the various classes of cars) uses the the 12-cylinder version Lamborghini Aventador flagship as its base. What makes it truly…
Surprises are rare these days, so much respect to whomever thought the Lamborghini Aventador should lose more than just part of the roof for a one-off roadster version. The Lamborghini Unica is an Aventador with a vent and a door but no roof, windshield or pillars. It's insane and hopefully real.