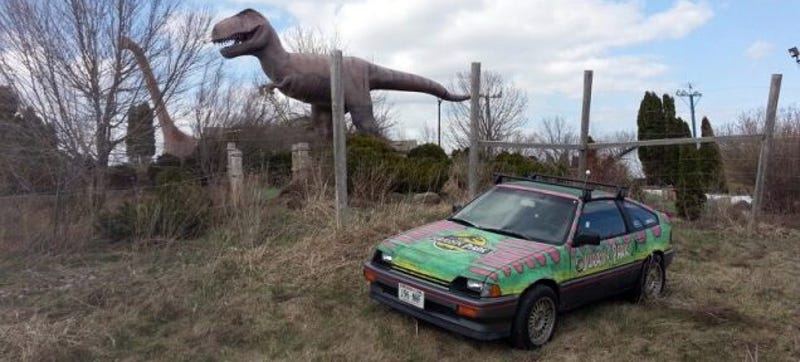 [Here's further proof that you, Jalopnik readers are awesome. I shall hand over the microphone to Riley Schultz: "The original paint wasn't in good shape anymore, so I went chalkboard!". Brilliant!]
Today's Nice Price or Crack Pipe Ford Explorer is movie themed and even has its own Website so that others can share in the cinematic dream. It's a pretty faithful homage to the Jurassic Park trucks, but you'll need to decide if its price simply T-wrecks it.
The 24 Hours of LeMons is part motorsports, part theater. Nobody does the theater part better than Speedycop. You know, the guy who made the upside down Camaro. Well, here's a perfect Jurassic Park Explorer recreation from him. And it's going racing this weekend.
"My girlfriend at the time didn't want to ride around in, it because it was 'too stupid,'" laments a Jeep enthusiast, denied his dream of turning a YJ Wrangler into a Jurassic Park replica rig. Well he ditched the bitch and found his tribe; a unique group of Jeep owners with deadpan devotion to the epic dinosaur…
There was nothing particularly special about the first generation Ford Explorer, 'til it rolled with mother flippin' dinosaurs in one of the cinematic masterpieces of my generation. Christopher Orgeron agrees; he's two years into building the ultimate Jurassic Park Explorer replica complete with big-brick TVs inside.