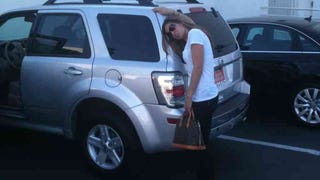 Tuesday was Jill Wagner's last day as an auto spokesmodel. Sad Mercury Girl is sad. (H/T to Rhozn!)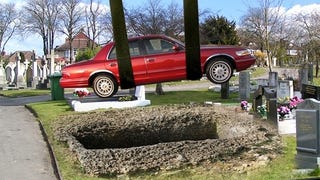 Seven decades after its birth, Mercury is dead. We don't mourn the loss, but we don't rejoice, either. To be honest, we don't feel a thing. Do you care? Does Ford? Does anyone?
The 2010 Mercury Milan isn't as curvy as Jill Wagner, but it does benefit from a more shapely profile than its predecessor. The general buyers who opt for the new Milan over its Ford or Lincoln siblings will probably be more interested in that visual enhancement than the upgraded 2.5-liter four-banger or the revised…
It can't be fun to be a Lincoln Mercury dealer right now. Not only do you have to endure your Cadillac Buick dealer friends showing off their relatively diverse and unique stable of new models, but there's no clear idea of what your future is going to hold. An article in the Detroit News features various dealers of…
Yes, not as much Jill Wagner as we'd like, but hell, we'll take as much of her as FoMoCo will give us. In this episode of Blade commercialism from the not-Ford brand, our fair heroine is explaining how she can single-handedly re-badge a Ford product as a Mercury by placing the badge in the middle of thin air, and then…
This newspaper ad for a Queens auto dealership could be the world's most obvious attempt at linking sex with buying a car. Still, considering it's an ad for the Hyundai Elantra and the Sonata — that may not be the worst idea to move some product. Hell, maybe they should try that shit out with the Dodge Magnum or…
Oops, was that a slip of the tongue made by the main-man at FoMoCo during the introduction of the new Ford Five Hundred yesterday Sunday? Was it signaling a serious shift in strategy for the automaker? Or — maybe he's just telling the truth. All we've got to ask is — What Would Jill Wagner Do?


We know its only tangentially auto-related, but we just can't get enough of Mercury spokeswoman Jill Wagner — and it seems other women can't get enough of her either. It appears the new hotness in the latest looking-for-metro-cool Mercury commercial has little to do with the cars. According to today's Freep,…


Tho' we're neither mag nor lad mag, we do know a hot-as-hell spokeswoman when we see her — and no talking head's been hotter (in both Google-dom and on the boob-tube) than Mercury's Jill Wagner. She's hot — and so's her latest resume entry for the smaller-than-silver screen. She's got the role of sultry…
Those who've been pining for Mercury's new spokesmodel now have a name to Google for scantily clad lad-mag shots. According to the blog, Population Statistic and other 'net denizens, she is none other than Jill Wagner, late of "Punk'd" and (guest spots on) "Dr. Vegas" (do we remember that show?). We hope she'll…