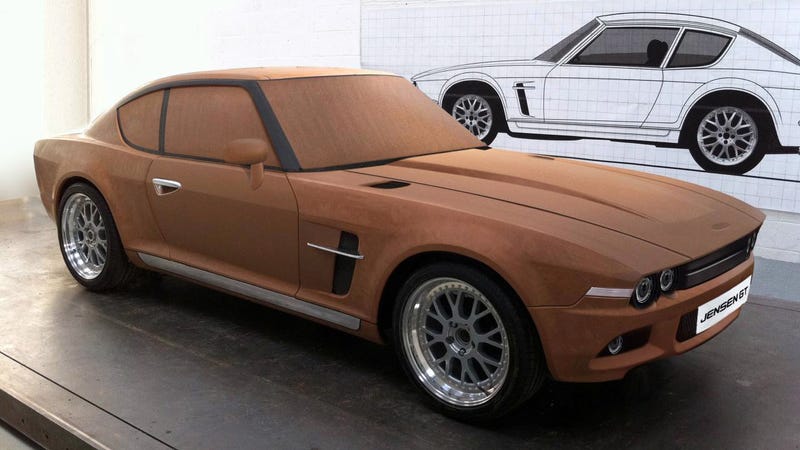 The extremely-limited edition Jensen GT is the first new Jensen in 13 years. But Jensen says this is only the beginning, as the people behind it intend to launch a new Interceptor in 2016.
Jensen Interceptor MKII, $8995. Right hand "frive", 383 Magnum "ecgine", needs restoration. It's in Connecticut. Owner says he will "trad" for a Harley, BMW, or Hummer of equal value.
British cars and honkin' big American V8s go together like peas and carrots, but today's 440-powered Nice Price or Crack Pipe Jensen Interceptor is rough enough that you might just lose your appetite.
This is so very cool — V Eight, the guys who renovate and restore Jensens, then load them up with LS2s to create the Jensen Interceptors S, are planning to build the limited-edition, restyled, high-performance Jensen Interceptor SX beginning in 2010. Only 25 copies of the Interceptor SX will be produced, but those few…
Jensen Interceptors are cool, don't deny it. No matter how frumpy you may think they look, there's just something about it that conjures up images of storming across the landscape en route to a swanky vacation lodge in the Alps with your foot to the floor and the V8 rumble triggering avalanches in your wake. Well, now…
Our good buddy Kennedy (see here) just signed a mega-bucks deal with Warner Brothers and took off to England in search of fame, fortune and what have you. Is he buying hot cars with his millions? Probably not, as the American dollar is worth like half a farthing these days. Regardless, if you're going to front as a…
With the Olds blasting the Chrysler by a decisive margin in yesterday's Choose Your Eternity poll, we figured it was time to go across the water and get a couple of seriously cool- yet sanity-shreddingly difficult- sporty cars for you to choose from today. And, just because no choices are easy in Hell, we're going to…
Oh man, this one hurts. As you may know we are at the age and pathetic financial situation where a man begins to look around for his project car. As you may also know, Jalopnik hearts shooting breaks brakes, especially British ones. This very good looking example of how screwed up the British auto industry was of…
[Note: The Jalopnik Fantasy Garage will be back to its normal Tuesday schedule next week. — ed.] When I took over the Jalopnik Fantasy Garage from Farago, my initial thought was... 1978 Aston Martin V8 Vantage Oscar India. Shoot me. However, my second thought was the Jensen FF. Many of us are old enough to remember…