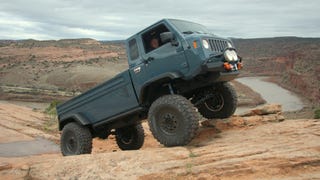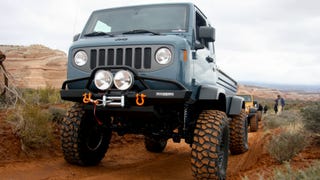 Despite the iconic seven-slot grille, the Jeep Mighty FC Concept is as American as a Katyusha rocket. The retro-fantastic rock crawler shares its design lineage with the Soviet GAZ-66 and the arsenal of atom bombs that terrorized the nightmares of '50s schoolchildren.
It's official. I might die. The Jeep Mighty FC Concept — unveiled this morning in Auburn Hills alongside the other concepts — looks exactly as cool as we'd hoped it would. The Forward-Control Jeep is reborn.
Jeep's produced another round of their crazy Jeep concepts that we'll soon beg them to turn into something you can actually buy. Highest on the list? The Jeep Mighty FC, which looks like a Forward-Control Jeep modernized for the new world — something I'd never thought of until this moment but now must posses.