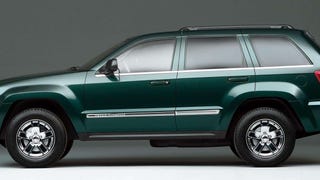 Massive ignition switch-related recalls: all the kids are doing it. Even Chrysler, who today announced the recall of 792,300 older Jeep models worldwide to fix some very familiar ignition switch issues.
Everyone loves to hate on the 2014 Jeep Cherokee. Sure, it's a bit odd looking, but I like it because it's new and different. You know what they would get if they stuck to that XJ design again? Another one of these.
The tornado that struck the town of Dexter in Southeast Michigan last week took dead aim at a row of houses along Wilson Street in the Orchards River Hill subdivision. When the twister cleared, nearly everything was destroyed. Everything except this one Jeep Commander that miraculously appears untouched.
Neidermeyer, Dead! Dean Wormer, Dead! Jeep Commander, Dead! This, at least, according to Bloomberg and their sources. The largest of Jeeps, the Commander, never quite found a place for itself in this mean old world. Despite carrying Jeep's styling over into a vehicle capable of carrying seven semi-comfortably, not…