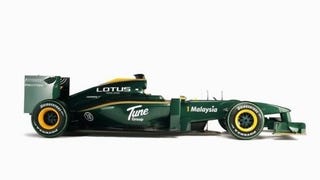 With the paintjob of its glory days in the '60s, a team with the name Lotus is back in Formula One.
Substituting for an injured Timo Glock at the Brazilian Grand Prix, Toyota's GP2-racing test driver displayed balls of titanium and mad, scorching speed.
With the wacky 2009 championship down to its antepenultimate race at Suzuka Circuit, Jenson Button's eroding cushion of points was looking increasingly fragile. Rubens Barrichello and Sebastian Vettel smelled blood. Spoilers, shmoilers!
MANAMA, BAHRAIN – Following Jenson Button's performance at the Bahrain Grand Prix, the English driver is joined by teammate Barrichello and team principal Brawn for a stroll at the Bahrain Bazaar. Spoilers below.
We told you this past week the Batmobile would be taking some laps at Silverstone, with Panasonic Toyota Racing's Formula 1 car team spending some time this weekend running alongside at the track. Now we've got the video to prove that still shot wasn't some kind of hallucination. Don't expect a lot of screeching tires…
Toyota's newly redesigned Yaris minicar will hit the states in 2007, but not likely in the form of this Jarno Trulli prototype, named for the Toyota F1 team driver. Its low-profile tires, brembo leg-irons and other mods are just slapped on to give potential buyers an idea of what's possible. Well, Mr. Toyota, we kind…