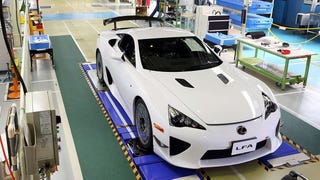 While the made-to-order Lexus LFA has sold out in June, it took Toyota's Motomachi plant another six month to make the #500 V10 supercar.
Subaru's now famous Symmetrical All-Wheel Drive is 40 years old. Contrary to what you might expect, the first couple of Subarus using it were not turbocharged racecars fighting against the mud and snow but rather affordable coupes and family cars in need of some extra grip. The Japanese company has been commited to…
We see a lot of awesome rebuilt classics. People take old European sports cars, American muscle, and supercars and breathe new life into them. But this Washington State gearhead showed what can be accomplished with a $100 beater and a few good ideas.
Despite Joe Isuzu's hyperbole, people used to avoid buying Isuzus as though they were chock full of grandma porn. Today, Nice Price or Crack Pipe gives you another chance to buy one, but is this Impulse just a regular Joe?
The other day we showed you some cute little Japanese Kei cars converted to look like vintage American vans. Turns out they were the creation of a company called Dream Factory Blow. They're sort of an American-style surfing-obsessed customizing shop, but since they're in Japan, they work their magic on JDM rides.…
Apparently, the custom van fad of the '70s never died in Japan. But what if you want all the style of a vintage American full-size, but you need the efficiency and small size of a Japanese econobox? Well, do what these guys did, and convert the front end to look just like a Dodge or Chevy Van. Auto-Otaku found these…
I scream, you scream, we all scream for ice cream racing! As you can see, JDM ice cream bars don't have wooden popsicle sticks like our USDM ice cream. Despite the resulting loss of downforce, the frozen treat manages to perform fairly well. We just hope that this is NOS-flavored.
Everybody has one of those of friends—you know, the person that seems to think he or she can park their El Suburbamino in places where the sun don't shine. Of course, as with many things, the Japanese have taken this mundane ritual and transformed it into an art form, complete with the obligatory game show.…