If NASCAR is racing at Daytona, then one car can ruin a lot of people's day—as happened on the 90th lap tonight when Jamie McMurray's #1 got just a bit too much into Jimmie Johnson's way, leading to The Big One. Kevin Harvick's car didn't look so great afterward: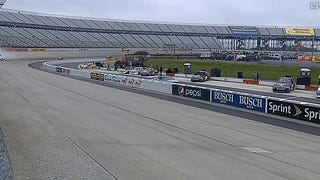 A gear failed on Danica Patrick's Stewart-Haas Racing Chevrolet during NASCAR Sprint Cup practice at Dover International Speedway today, sending driver Jamie McMurray and Patrick's team owner Tony Stewart into an unprotected hard wall. That's worrying for Stewart, who is still recovering from a back injury.

The scene leading up to Jeff Gordon's final NASCAR Sprint Cup Series race was quite sentimental. Very touching. Then he got in the car, and the typical frustrations—and radio expletives—of racing came right back.