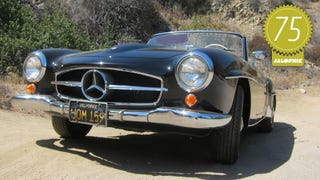 I saw this car parked at a place called House of Pies. Inside, I scanned around for the owner of this little black beauty. Eventually, I saw a young couple with just that right combination of weather protection and style: hats, flowy period-correct scarf for her, sun screen on him — it had to be them. It was.
The Jaguar Mark 2 is bad. It's the sort of car that lets people know that its driver is a boss. Its elegant curves and (for its vintage) powerful engine are the reason why it became favored by British criminals as a getaway car during the 1960s.
Some cars are so beautiful that it hits you like a canned ham fired from a cannon. The original Jaguar E-Type is one of those, a car capable of generating spit-takes and the sorts of looks that'll get you kicked out of playgrounds.