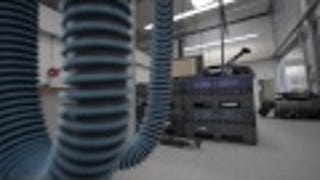 Somewhere near Groom Lake in the Nevada desert is Area 51, a top-secret enclave where the military develops and tests its most cutting-edge hardware. Or not. Hidden on a side road just outside the northern loop of the Nürburgring is the Jaguar test center in the Industrial Park, which is ostensibly the Area 51 of…
Convertibles have been a part of Jaguar's DNA since day one. Legends like the XK120, E-Type, and XJS are deeply ingrained in Jaguar's heritage as comfortable tourers with a sporting attitude. The XK continued to hold the candle as the relaxed, sporting gentleman's convertible since it was released in the 1990s.
Dutch photographer Alexander van Boekholdt sent us this still shoot and video of Jaguar's surprisingly gorgeous, powerful leather-lined supercoupe, the XKR-S. It is so blue.
The Los Angeles Auto Show's a great place to show a convertible because L.A. is a great place to drive a convertible roughly 357.4 days a year. And what better drop-top to unveil early than the Jaguar XKR-S convertible, the fastest, meanest Jaaaaaaag convertible ever?
The XKR-S is the most powerful production car ever built by Jaguar, squeezing out 550 hp from its 5.0-liter V8. The Jaguar XKR-S convertible will thus become the most powerful production Jaaaaaag convertible when it debuts at next week's L.A. Auto Show.
The Jaguar XKR is undeniably a sexy beast of a car. That being said, adding an "S" to the end of the name, tweaking the suspension and tires, and futzing with the nose styling apparently doesn't add up to a car fast enough to justify US sales. Jag USA has decided the S model, having the same 175 MPH top speed and same…