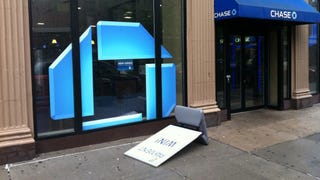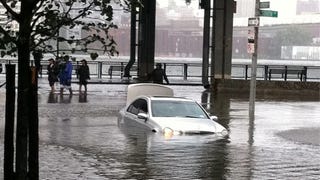 While walking along South Street on lower Manhattan's east side to inspect damage from Hurricane Irene, I found huge pools of water at a few of the intersections. It wasn't water inundation from New York's East River so much as it was runoff from the overpass, flowing down into already-overburdened storm sewers.
With Hurricane Irene barreling toward New York City, I've decided to stay behind in my Manhattan Financial District apartment — located smack-dab in the middle of "Evacuation Zone A." Keep refreshing this page as I live-blog the storm from my perch above lower Manhattan providing either the first pictures of Hurricane…
It looks as though "The Full Shilling," a bar located on Pearl St. here in Lower Manhattan's now deserted Financial District is the first casualty in Hurricane Irene's war on New York City. And... never mind damage photos — I've got video!
This photo from the New York Metropolitan Transit Authority (MTA) shows something never seen - and certainly not on what should be a busy Saturday afternoon in August: an empty Grand Central Station. With all transit in the New York area closed, the terminal is a big empty barn. If you're watching TV news they'll…
From the annals of dumb things people do when scared comes this photo snapped by a New York Daily News reader.
Hurricane Irene is churning up the East Coast like an angry 17th-century dairy maid. Obama has canceled his vacation to make us feel safe and evacuations are underway in New York City. Here's the latest news, with updates below.
There's only so many ways off the island of Manhattan. With Hurricane Irene bearing down on New York, here's seven secret (or at least semi-secret) ways to make like Snake Plissken and escape from New York to the mainland before the storm hits. Also, what to do if you don't have time to escape.
Escape Route #1: Bike out