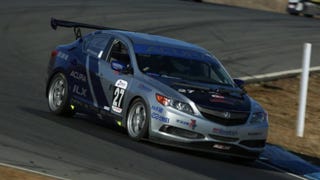 Team Honda Research West claimed the E1 class victory Sunday in the 11th running of the 25 Hours of Thunderhill, as Acura entries from THRW and Fantasy Junction took three of the top four E1 finishing positions in the challenging endurance contest that concluded the 2013 National Auto Sports Association season.
The Acura ILX, the Honda Civic with a proboscis prosthetic first shown as a "concept" last month at the Detroit Auto Show, was whipped out here at the Chicago Auto Show today in its full production trim.
Acura knocked the room for a loop with a haymaker called NSX. Here's the other end of the Acura excitement spectrum. It's the ILX, a car with which Acura hopes to attract younger buyers; older, downsizing urban dwellers, and those for whom a doctor has prescribed the avoidance of excitement of any kind.