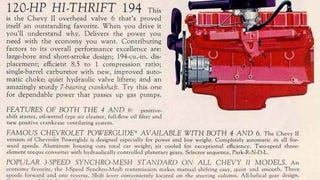 We honored the Pontiac OHC Six, which was based on the Chevrolet 230, a couple weeks back. Today, we honor the pushrod Chevy!
After we had Engine Of The Day Overload last weekend, I got the usual flurry of emails pointing out the really important stuff I'd overlooked. One engine kept coming up, though: the mighty Toyota JZ!
How long does an engine family need to survive in front-line use to become a legend? 42 years, like the Toyota R? 47, as with the small-block Chevy? Today's engine may have them both beat!
In this series, we'd like to honor the engines that were made in vast quantities and/or remained in front-line service for decades (in addition to low-production Ass-Kickin' Engines), and the BMW "Little Six" definitely qualifies.
Toyota will often keep a winning engine design going for decades, as we've seen with the 5-decade R engine. Toyota's inline-six M engine soldiered on for nearly 30 years.
You know what's wrong with NASCAR these days? Two things: the fans no longer drink beer from steel cans, and nobody races inline-six flatheads! Oldsmobile and Chrysler had new overhead-valve V8s in the early 50s, but Hudson Hornets equipped with 308-cubic-inch, twin-carb (called "Twin-H") flathead six engines utterly…