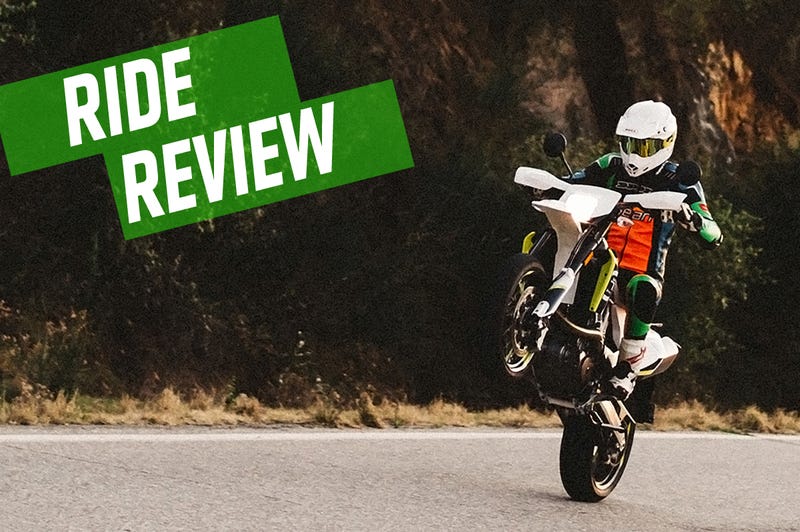 With the 2016 Husqvarna 701 Supermoto, Husqvarna has created a true do-it-all road destroyer. I've never ridden a bike perfect for the twisties and urban settings that could also do freeway stints without brutalizing my body into a painkiller addiction. Then I finally got to throw a leg over the 701.
Last week, I spent two days in the California high desert testing the new Husqvarna 701 Supermoto and 701 Enduro. The dirt focused guys chased my taillights as we rode windy roads on street tires all the way out to Anza Borrego the first day, and then I floundered my way home in the sand, sucking on their dust the…
If you thought this year was a fun bike launch/EICMA season, wait til you see what's coming for 2017. Kawasaki just declared they have 12 bikes coming over the next two years, we should see more forced induction things, KTM better bring me my 800 cc twins, and Husqvarna confirmed the 401 Vitpilen is on the way. The…
Of all the bikes unveiled last year, one pair of Husqvarna concepts had us throwing our wallets at our computing machine screens. Husky heard the dull thumping of leather smacking against glass and is ready to deliver. The 401 twins have gotten the green light. Hells. Yes.
Husqvarna has a certain cachet, even if you remove the overblown Steve McQueen connection. Combine that with the recent interest in lightweight, entertaining rides (see: Ducati Scrambler), and you've got a recipe for success. And that's exactly what we have with this menacingly beautiful pair of 401 concepts.
BMW's Italy-based enduro and motocross bike builder Husqvarna dates back to a 17th century Swedish musket maker, but it's no longer sweating the Treaty of Nijmegen. It's working on a new, avant-garde streetfighter that might give Ducati a workout.
What's one activity that hasn't yet been painted with the green brush? Mowing! Luckily we're more excited about the Husqvarna Panthera Leo's five motors than we are its recycled materials.