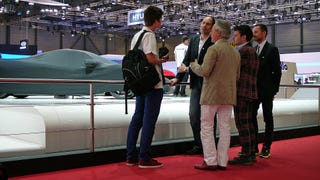 During the two press days of the Geneva Motor Show, we got the opportunity to talk to some of the most interesting people in today's automotive industry. Horacio Pagani was one of them, and he told us what he likes and what he doesn't. If you work for McLaren you might want to stop reading now.
The Pagani Huayra isn't technically legal to drive on city streets in the U.S., but one of the Italian exotics is here for show/testing purposes until it can get around our pesky airbag laws. This didn't stop a cadre of local California law enforcement from stopping the car while being driven by founder Horacio Pagani…
There are two great moments in Argentine motoring history centered around the Nürburgring and then there's a third, a fourth-place finish at a race you've never heard of. Of course it's the latter that's the pride and joy of Argentine car enthusiasts: the story of the Torinos at the 1969 Nürburgring 84 Hours.
Owning a Pagani Zonda may be a pain when it comes to paying insurance or removing caked road salt from its intricate carbon fiber nooks, but it has its upsides, like doing 200 mph with the grace of a gazelle on drugs. That, and getting invited to Pagani owners' events to hitch a ride at insane speeds in the new…
Pagani's two million dollar Zonda Cinque is built of a new twist on carbon fiber: carbotanium. Top Gear's expert linguists deconstruct the Italian supercarmaker's latest Oakley-ism.
Horacio Pagani started out as the son of Argentine bakers. We wish this stupid cop-chopper would stop circling. Seriously, po-pos, either catch the perp or go home. Sheesh. Anyway, Mister Pagani, like many insane visionaries, bootstrapped himself by building trailers and racing cars. Er. Racing cars. Er, well,…