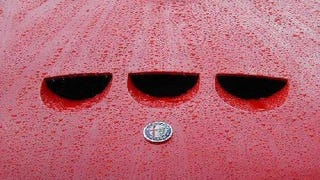 The name of last week's hood scoop, the Plymouth Air Grabber, reminded us of the "Dual Dome" scoops that Ford put on the 1971 and 1972 Maverick Grabbers.
I was going to follow up the Rover 3500 triple scoop with the terrifying '64 Ford Fairlane Thunderbolt scoop, but then it became clear that we were having a Chrysler sort of a weekend.
When British Leyland decided to market the Rover P6 in North America, they knew that they'd need two things to make power-crazed Americans buy their hot saloon: a V8 engine… and wicked-looking hood scoops!