Honda's recalling 3,336 Accord Crosstour hatchbacks because they need some airbag tweaks. [Honda]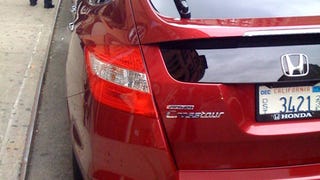 The Honda Accord Crosstour is currently undergoing inspection by the autojourno set, including our own Ray Wert. These first live photos, below the jump, reveal the new crossover certainly conforms to the Beyoncé definition of "healthy."
The Honda Crosstour has revealed a closer side of its personality on Facebook. From the photo of the grille below, it appears the Accord wagon won't share the snub-nosed look of the Honda Pilot. See for yourself below the jump.