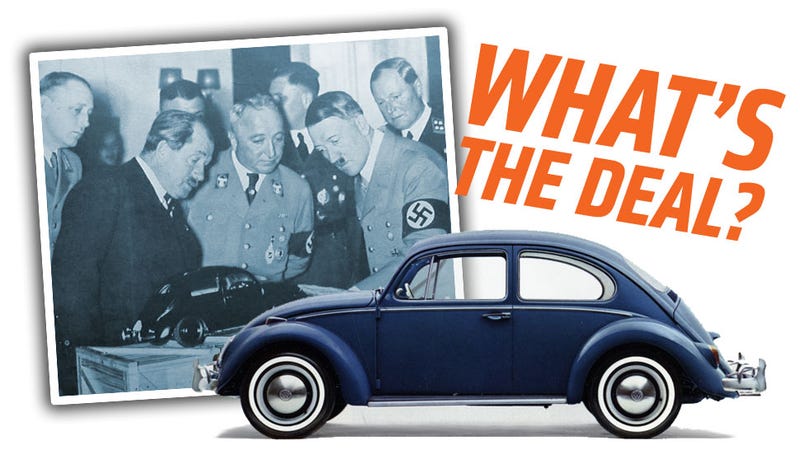 We've been talking about Volkswagen a lot lately, for pretty obvious reasons. And pretty often in all this talking, we've encountered a lot of references to VW's past, specifically the idea that the company was "founded by Nazis. :(" How true is this statement, really?
Remember when every other video you saw was a parody of the film Downfall? It's not over yet and somehow we missed this particular version that puts Hitler in a Mario Kart to do battle with Hermann Fegelein. It is ridiculous, and the amount of time that went into it is slightly disturbing.
Protected by 13 feet of concrete, the Führerbunker was a multi-story underground complex in Berlin that became the central nervous system for the last five months of Hitler's murderous Nazi regime. Now it's a parking lot. And until recently, you'd never even know it was once there. Here's how to find it.
With their 800 mm guns, 270 mph race cars and dreams of an empire from the Atlantic to the Caspian, those Third Reich people sure had a thing for big. The Breitspurbahn (broad-gauge railway) was bigger than big: a brand new cross-continental railway with a gauge of 9 feet and 10 ⅛ inches, it was to run the length and…
The first BMW product may have been an aircraft engine, but it took help from the United States to return BMW to their roots after World War I put an end to German aircraft engine production. This BMW 132 radial nine began life in 1926 as the Pratt & Whitney Hornet and went on to power thousands of Luftwaffe planes,…
A letter written from prison by young Adolf Hitler to a Mercedes-Benz dealership features the Führer-to-be asking the dealer to take "a couple thousand [reichs]marks" off a prospective purchase. Seems his pocketbook couldn't support the aggressive automotive expansion. [AFP]
Perhaps hoping to underscore why he gets along so well with Max Mosley, F1 Boss Bernie Ecclestone told The Times he doesn't like democracy and believes Hitler, Saddam Hussein and the Taliban were doing a good job.
We giggle every time we hear the words "Esh-Esh!" in this subtitle-fake dubbed Der F hrer Gestohlener Tr ger. [Hat tip to Jason, Austin, and everyone else who's sent us this. And no, we didn't decide to not run this because I'm Jewish. We decided to not run this because we were busy. In case you haven't noticed, Jews…